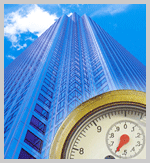 SANLIAN Water Meter Co., Ltd. is located in Ningbo City, near Shanghai. After making water meters for decades, SANLIAN developed as an outstanding water meter manufacturer in China and around the world. We put great efforts in designing and producing new models of water meter. The best possible raw materials guarantee the high quality of our products.

We adopts GB/T778-1996 national standard, JB/T8802-1998 industrial standard and ISO 4064 international standard to manufacture A, B grade 15mm-500mm vane wheel type, Woltman type, wet type, dry type, liquid-sealed, inversion-proof, transmitting intelligent, hot water and cold water meter, and to manufacture C, D grade 15mm-40mm rotary piston volumetric water meter, 8mm drinking water measuring meter, AWWA standard water meters for USA
market and plastic accessories. The company has formed the production line from raw material to water meter finished product, and its annual production capacity is 1,500,000 sets.

Our water meter was appraised as "New Millennium Quality and Measurement Trust-Worthy Company" by Bureau of Technical Supervision of Zhejiang Province, Consumers Association, Zhejiang Sanitation and Anti-epidemic Station and Quality Wanli March Campaign. Our products have won the appreciation from water supply companies and end users.

Our products have been exported to Thailand, Malaysia, Philippines, Indonesia, Bangladesh, Viet Nam, Myanmar, India, Nepal, Sri Lanka, South Africa, Ethiopia, Kenya, Uganda, Nigeria, Morocco, Mauritius, Russia, Spain, Canada, USA, Chile, Guatemala, Colombia, Argentina, Ecuador, etc.

With the aim of "consumers are God, quality is the foundation of enterprise", SANLIAN all along pays attention to the technology and the quality, to offer high quality products and service to customers warmheartedly, and to satisfy customers at high limit.