LXL-80E~200E Horizontal Woltman Type Wet-Dial Cold
Water Meter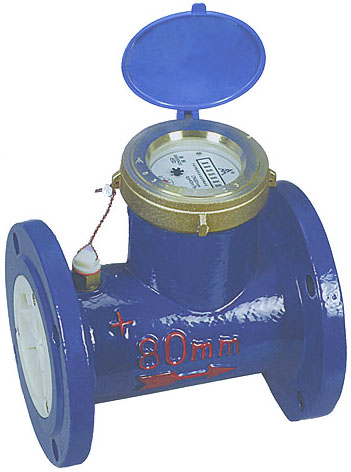 Application:
This range of water meter is used to measure the total quantity of cold water passing through the
pipeline.



Feature:
Wet-dial, woltman type. Selected high quality materials for steady & reliable characteristic.
Measuring accuracy conform to ISO 4064 Class A. Low head loss. Register for universal use.
Great flow capacity, low pressure loss, light weight, small volume, compact structure, easy
operation and maintenance.




Working Condition:
Water temperature:≤40℃
Working pressure:≤1MPa



Compliance With Standard:
ISO 4064



Indicating Error:
a) In the lower zone from Qmin inclusive up to but excluding Qt is ±5%
 b) In the upper zone from Qt inclusive up to and including Qs is ±2%

Main Technical Data:
Type
Meter Size

(mm)

Class
qs
Max
Flow
qp
Nominal
Flow
qt
Transitional
Flow
qmin
Min
Flow
Min Reading
Max. Reading
m3/h
m3
LXL-80E
80
A
80
40
12
3.2
0.01
999999
B
8
1.2
LXL-100E
100
A
120
60
18
4.8
0.01
999999
B
12
1.8
LXL-150E
150
A
300
150
45
12
0.1
9999999
B
30
4.5
LXL-200E
200
A
500
250
75
20
0.1
9999999
B
50
7.5

Dimensions And Weight:
Meter Size

mm

Length(L)

Height(H)

Connecting flange

Weight

kg

Outer Dia
Bolt circle dia
Connecting bolt dia
mm
D (mm)
D1(mm)
pcs
80
225/250
245
190
160
4-M16
13.5/14
100
250
260
210
180
8-M16
15
150
300
310
280
240
8-M20
24
200
350
362
335
295
8-M20
36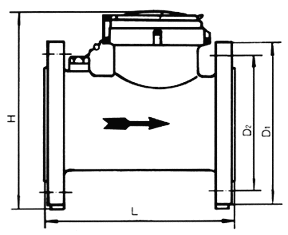 Flow Error Curve: